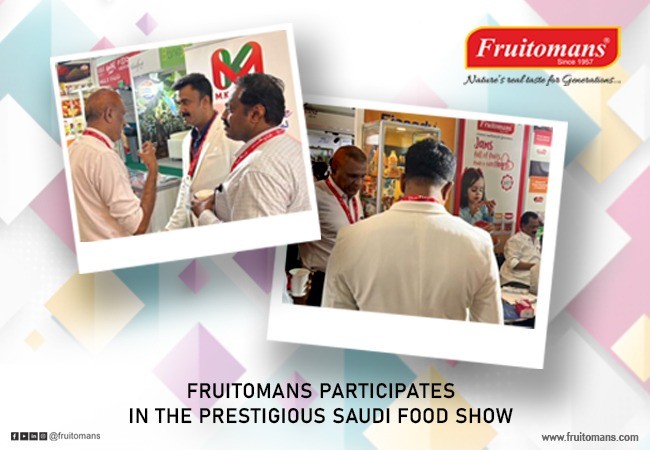 Fruitomans at Saudi Food Expo '23
Fruitomans is a Kerala-based Food processing and Manufacturing company which was founded in 1957. Committed to excellence and innovation the company has earned a prominent place in the FMCG sector in India.
The brand participated in the Saudi Food Show 2023 which is the ultimate launch pad for the global food and beverage Industry. The food expo provided Fruitomans a great opportunity for global visibility especially in the Middle East Market.
The Saudi Food Show is a highly anticipated event in the culinary industry, showcasing a wide range of food products, culinary innovations, and cutting-edge technology. This year, Riyadh hosted the Food Show from 20 to 22 June 2023, bringing together food enthusiasts, industry professionals, and businesses from around the world. The event was a hive of activity engaging FMCG leaders with an eye on collaboration and expansion of business portfolios. The Saudi Food Show provided Fruitomans with a great opportunity to advertise its products and businesses. It helped the company to connect with other Industry leaders and exchange ideas, suggestions, and proposals.
The participation of Fruitomans in the Saudi Food Show 2023 has been a significant step on the company's part for global expansion and asserting its market presence. With their legacy of excellence, commitment to innovation, and a diverse range of high-quality food products, Fruitomans has been able to captivate the taste buds of international consumers and forge valuable partnerships. The Saudi Food Show has served as an exceptional platform for the company to showcase offerings, connect with industry leaders, and contribute to the vibrant and ever-evolving world of culinary innovation.